Portfolio
Aptech Designs has served some of the most prominent organizations in Texas and Louisiana including Rice University Center for Education, Crimson Management, F & J Architecture, and Ferrara Supermarkets.  One of the most frequent questions that we get from our clients is "Exactly what can php and MYSQL powered websites do?" Database driven websites (such as the ones we provide) created with MYSQL and PHP are extremely flexible and powerful.  These websites are the industry standard.  To illustrate exactly what can be expected from our websites, we have created a portfolio of five sample websites.  These websites represent what our customers can expect from us in quality and graphics for their personal or business websites.  Please note that these 5 website templates reflect only a small fraction of templates that will be available to you when you purchase a website package from us.  Whether you want a personal website to showcase your skills and portfolio, a group website for your sorority, fraternity, school/college club etc, or a professionally designed business website, we have a template to fit your needs!
 Restaurant Theme: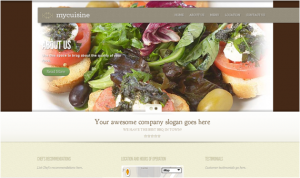 This sample website is perfect for restaurants, cafe's, bakeries, or pretty much any other food establishment.  List your menu, your business hours, coupons, and event information to keep your guests well informed! Click here to visit the sample site.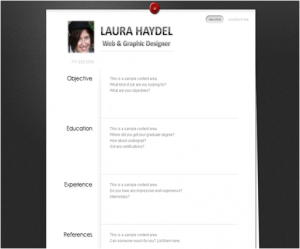 E-resume: Did you know that creativity and ingenuity are among the key traits that employers look for in new employees?  Impress a potential employer with this e-resume. A must-have during this economy, this resume will make you stand out among all other candidates.  Showcase your skills and experience and include your portfolio online.  Don't forget to send us a little something when you land that big job!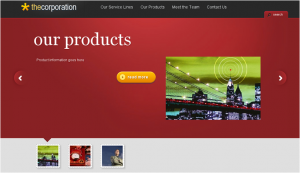 Small business/Professional theme: Simple and elegant yet resourceful and content-rich design, this template is a perfect example of what we are all about here at Aptech Designs.  This template can be used for your small business or non-profit organization.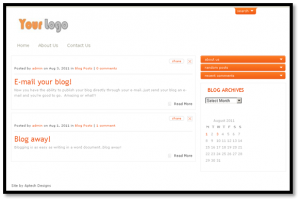 Blog: This design is great for anyone who loves to blog.  Another simple design, it makes the navigation of your blog extremely easy so your visitors can quickly find what you are looking for.  The  simple layout of this website also lends itself well to monetization via adsense or affiliate ads.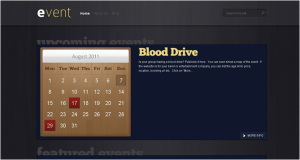 Event/Community: For all of you event organizers out there, this one is for you.  Whether you are a sorority, fraternity, school/social club, restaurant, building/apartment complex manager, HOA, or any type of event organizer, this template will help you and your visitors keep track of all upcoming events.